The wireless local area networks are a prerequisite for connecting to the world of the internet with mobile telephones, tablets and laptops – ideally from anywhere and at any time.
In the following section, we present you with the reason WLAN is so important and the possibilities of making WLAN available in public spaces.
A day without Internet? For most of us, it's hard to imagine. That's because the Internet has become an integral part of daily life, something that is now indispensable.
Whether for booking trips, watching videos, transferring money, reading the news or just chatting: A connection to the Internet has become a basic need for the majority of the population and is always in demand everywhere.
BE SMART – The Internet provides convenience and flexibility
Think beyond the simple search function. The Internet off ers an enormous number of possible uses and a high level of convenience.
You forgot to turn off the lights when you left the house. No problem.
Intelligent Smart Home systems can provide assistance, since they generate information through data acquisition, storage, analysis and further processing that enables remote control of physical end devices.
This allows residents to switch off the lights in their home, regardless of where they are at the moment.
In this day and age, heating systems, shutters and much more can also be controlled according to the same principle. However, all of this requires a connection to the Internet.
This example shows how access to the Internet and its availability makes everyday life easier and increases the flexibility of our daily routines.
A modern, smart home without the World Wide Web is almost unimaginable these days; it is simply taken for granted and indispensable.
Accordingly, no one wants to limit themselves to having and using the Internet only within their own four walls. Many people simply want the convenience of being able to go online any time and anywhere in order to enjoy the advantages and benefits of the Internet constantly and without geographical restrictions.
Movies and TV series are watched on the go, music is streamed, a route is called up using Google Maps, and cashless payments are made at the checkout using a smartphone. It's all very convenient and easy.
The basic prerequisite for these services is high-speed Internet that's always available. However, if you want to use all of these options and surf on the go in Germany, be prepared to shell out a good deal of cash, because in comparison to other European countries, Germany is far behind when it comes to consumer-friendly prices for mobile data use.
Apart from this, insufficient data volume is a problem for many people, particularly the younger generations. This is precisely where freely accessible public WLAN comes into play.
Public WLAN – free Internet for everyone!
Public WLAN in cities and municipalities has the potential to advance the digitalisation of our society and to strengthen Germany as a location for business.
Public spaces and life in general thus increases in quality and attractiveness through the creation of places to socialise and spend time and through fostering of communication and networking. Life in our cities and communities is more diversely structured and takes place in parks, squares, shopping areas and promenades.
The provision of WLAN, and thus access to the Internet in public spaces, can improve the conditions under which residents live on a lasting basis and shift their accustomed way of life from their homes to public spaces.
People's perception of being at home is transferred to urban spaces – to wherever the Internet is available.
WLAN – What is it and how does it work?
How can the internet be accessed in public spaces, and what does "WLAN" or "WiFi" really mean?
Both "WiFi" and "WLAN" describe access to data or the Internet through a wireless network. This requires a router that provides the wireless network while also establishing a connection to an Internet provider. Users are thus routed to the Internet, and a free Internet connection is made available to them.
Not just WLAN users but also cities and municipalities benefit from this, because a great deal of data can be generated by these WLAN connections.
This data, which we emphasize is made anonymous, provides information such as where and when people spend their time and for how long.
For its part, the city or municipality can use the data to make investments in leisure facilities in a targeted manner, for example, and thus deliberately increase the attractiveness of public spaces for its residents.
With its smart solutions, Hess has set itself the goal of transferring to public spaces the sense of well-being that comes from being at home.
True to the Hess slogan of "Enhancing urban spaces", Hess ensures that WLAN is perfectly integrated into the outdoor lighting. This perfect integration is such that no installations that could impair the cityscape are required apart from the luminaire needed for light.
The integration is also perfect because the use of high-quality components off ers maximum performance, enabling a high level of reliability and a problem-free connection to the World Wide Web to be provided at all times.
Hess thus makes cities and municipalities into the living rooms of their residents.
This is all the more reason why:
Home is where the WLAN is.
Ways of implementing WLAN
WLAN in cities and municipalities – elegantly integrated into outdoor lighting. This means that no further installations are necessary. The logical consequence is a tidy outdoor space and greater diversity – especially in the use of public space. This can be implemented in a wide variety of ways:
A WLAN access point is integrated into the luminaire. It is also referred to as a WLAN base station. The power supply and Internet feed for this access point is provided with an eight-wire network cable.
This requires that the city or municipality provide an Internet connection (as a rule, a separate broadband cable must be laid), a router, and a confi guration platform (server). The operator of the WLAN enables management in the form of a landing page which, among other things, makes it possible for users to log in and have their attention drawn to the general terms and conditions.
In addition, the operator is responsible for data privacy and all measures relating to the topic of "liability for interference". The operator can be the city or municipality itself or a telecommunications service provider, for example.
This variant is ideal for smaller areas in which service is largely provided at individual points. The best case scenario is when these individual points are close to a telecommunications connection.
This makes it possible to install the necessary hardware in a nearby building or telecommunications distribution box.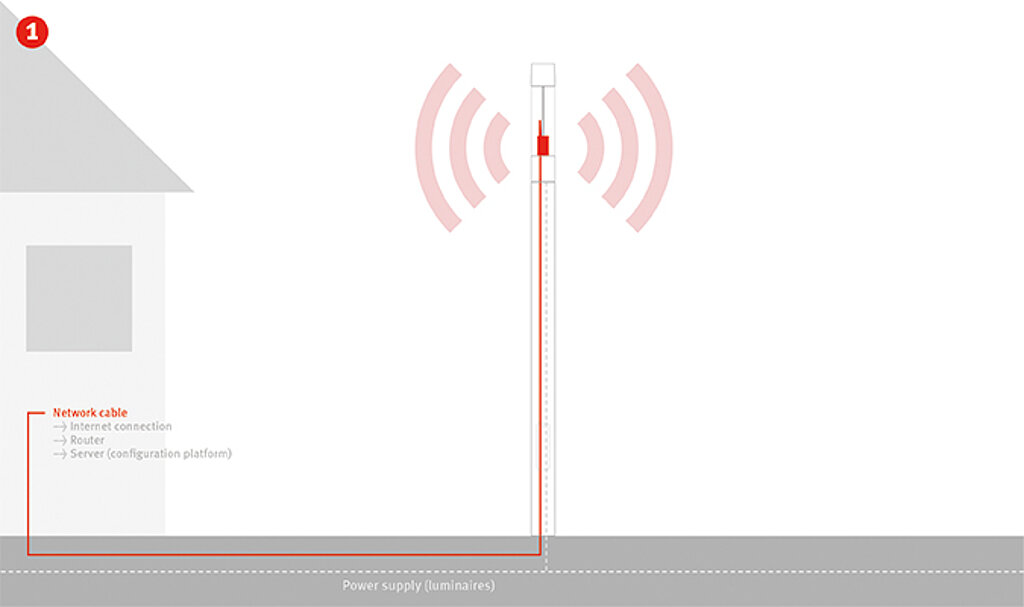 Compared to provision through an access point as described under variant 1, using a mesh network allows a considerably larger area to be provided with WLAN.
With a mesh network, data communication takes place between the individual luminaires, that is, specifically between the accesspoints they contain. This ensures that data can be used seamlessly over a large area without any problems.
The user of the Internet is optimally provided with WLAN from the nearest luminaire with the best signal.
As with variant 1, the power supply and the network connection are provided through a network cable. Depending on the planning of the network coverage, either just a power supply or just an additional Internet infeed is necessary.
The same parameters as listed under variant 1 apply to the provision. This variant is particularly suitable for spaces where, as mentioned, coverage over a large area with several infeed points is to be provided.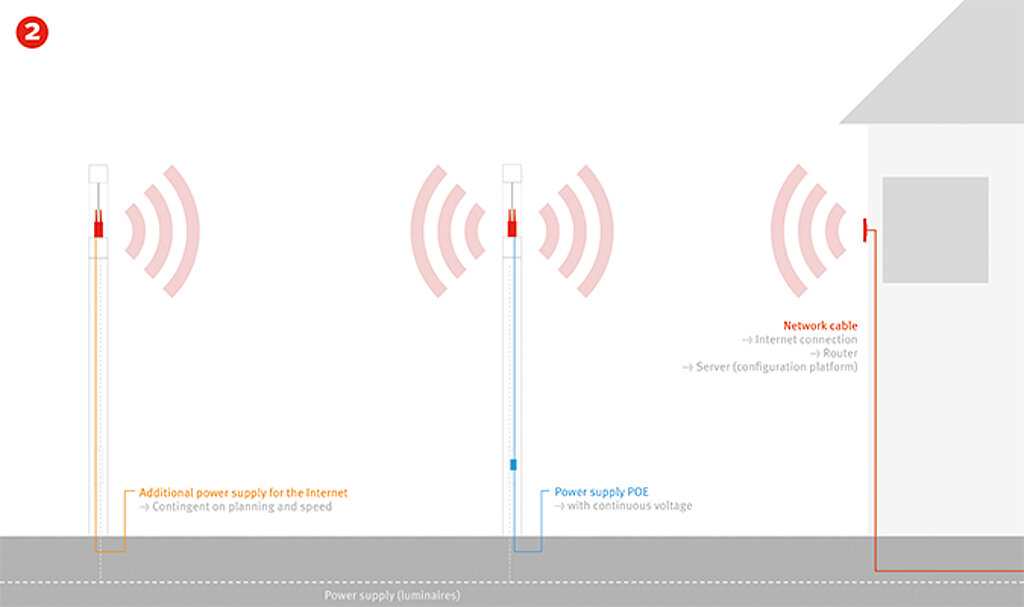 New luminaires or existing luminaires?
We bring WLAN to any city and to any urban space – no matter what the starting situation is:
New luminaires with WLAN
When purchasing new luminaires, WLAN can be perfectly integrated from the start. In short: the perfect symbiosis!
Retrofitting WLAN
You are retrofitting Hess luminaires that you already have? This is possible with all luminaires with a pole diameter of at least 100 mm.
Very important:
Should you happen to be considering retrofi tting your luminaires to the latest LED technology using retrofit kits, it's also possible to retrofit WLAN – in one go! Also in this case, a pole diameter of 100 mm is a prerequisite.
Hess – We support you on your "smart" way!
Contact details:
smartcity(at)hess(dot)eu
WLAN / WiFi
The name stands for Wireless Local Area Network and describes a radio network with a limited range. A router provides the WLAN via an access point, enabling wireless connection of terminal devices to the Internet.
WiFi, on the other hand, is a label or brand name. Devices labelled "Wireless Fidelity" (WiFi) are capable of receiving WLAN.
Router
A router connects to the Internet through an Internet service provider. Devices connected within this WLAN can use the Internet connection.
LTE
LTE stands for "Long-Term Evolution" and designates the mobile communications standard of the 4th generation, which is why it is often referred to as 4G. Through data transfer rates of up to several hundred megabits per second (Mbit/s), LTE enables fast surfing for the mobile Internet. It also enables better network coverage.
Accesspoint
An accesspoint is also known as a wireless access point or a base station. The device is normally located in an office or a large building. The accesspoint can be connected to a router with a LAN cable and transmits a WLAN signal to a specific area.
POE
"Power over Ethernet" is a standard that allows network devices to be powered directly over the network cable. As a result, WLAN access points no longer need a power connection in the vicinity but can be located anywhere, regardless of where the electrical outlets are located. A so-called PoE injector provides power to the device.
Landing Page
A landing page is a website that a user accesses through an external link, search engine or advertisement. The site serves to encourage the user to take a specific action, such as to agree to terms and conditions previously defi ned by the operator.