Seeing, hearing, smelling, tasting and touching – these are sensory abilities that developed over millions of years of human evolution, making it possible for us to get to know the world from the time we took our first steps, to admire it in all its beauty from the perspective of a sentient being and to have the ability to cultivate it for what it could give us. In short: Life without our spectrum of biological senses would be simply inconceivable.
Our senses are the key to conscious thought and necessary in our encounters and interactions with other people. After all, they provide us with all the essential information we need to function. It is no wonder that engineers also strive to outfit their systems and mechanical creations with these kinds of wondrous characteristics.
Sensor technology is what makes them possible, and its aim is quite clear: Having senses of their own allows computers to throw off the shackles of data input, and this represents a substantial advancement in computer use and information processing.
A machine with sensory capabilities no longer just completes the tasks assigned to it but instead generates its own impressions on a completely autonomous basis, thus collecting the data itself. It then evaluate this data, using its electronic brain to derive decisions and actions. At this juncture and beyond, we can begin to refer to what is happening as intelligence.
And all of this is no longer a dream from some distant future: Machines now survey their environment by seeing, hearing, touching and measuring it, and they are doing this faster and better than any human ever could. The species of Homo sapiens was simply made more for feeling, being amazed and appreciating, to which technical sensors certainly have a lot to contribute.
The right sensor for each requirement. Due to increasing interconnectedness, tangible synergies arise, which have a very positive effect on processes and resources and thus benefit the environment.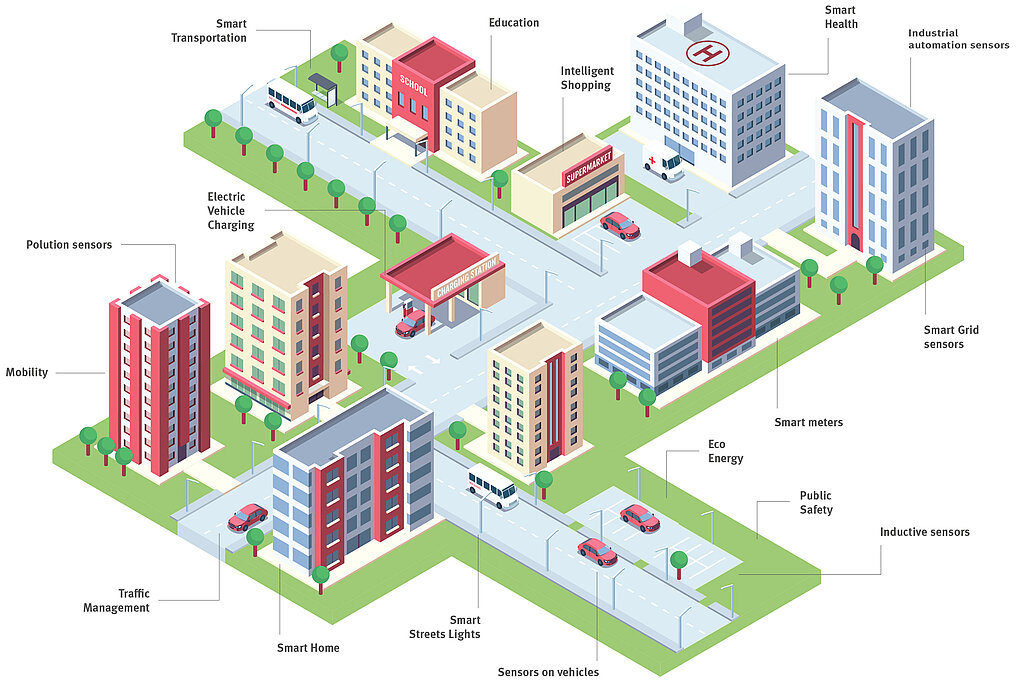 Facing today's complexity better with sensor technology
Sensor technology does an excellent job, especially in our highly complicated era. It provides targeted support for modern life in many different areas: For example, it can be found in vehicles, factories and buildings as well as in engineering for medicine, safety and the environment. In addition to their numerous applications, sensors are particularly in demand in urban centres, where traffic often comes to a standstill. This leads to enormous costs in terms of time, fuel and sheer stress, causing Germany to lose billions in economic output each year to the traffic jams that occur in its public realm.
The bottom line of the ADAC Traffic Congestion Report shows a new, dismal record for 2018: On average, there were some 2000 traffic jams per day. We can no longer speak of free and easy mobility that is unrestricted and unhindered in large cities. This is bad for drivers, bad for cities, bad for the economy and, above all, bad for the Earth's future climate. Offers aimed at reducing the amount of travel taking place in cars with a single occupant have so far brought only minimal success.
If any advances are seen at all, then they are only sporadic and temporary. In any case, traffic for the delivery of goods is continuing to increase unchecked in parallel with this.
What is needed is more intelligent solutions that can do a better job of organising the growing volume of vehicles and the largely irregular and unpredictable flow of traffic. To achieve this, making use of intelligent sensors that could be easily integrated into the existing infrastructure – such as street lighting – would be a good option.
How about finding a free parking space or a free charging station for e-mobility? No problem, thanks to state-of-the-art sensors. The result: Time and fuel are saved and nerves are spared.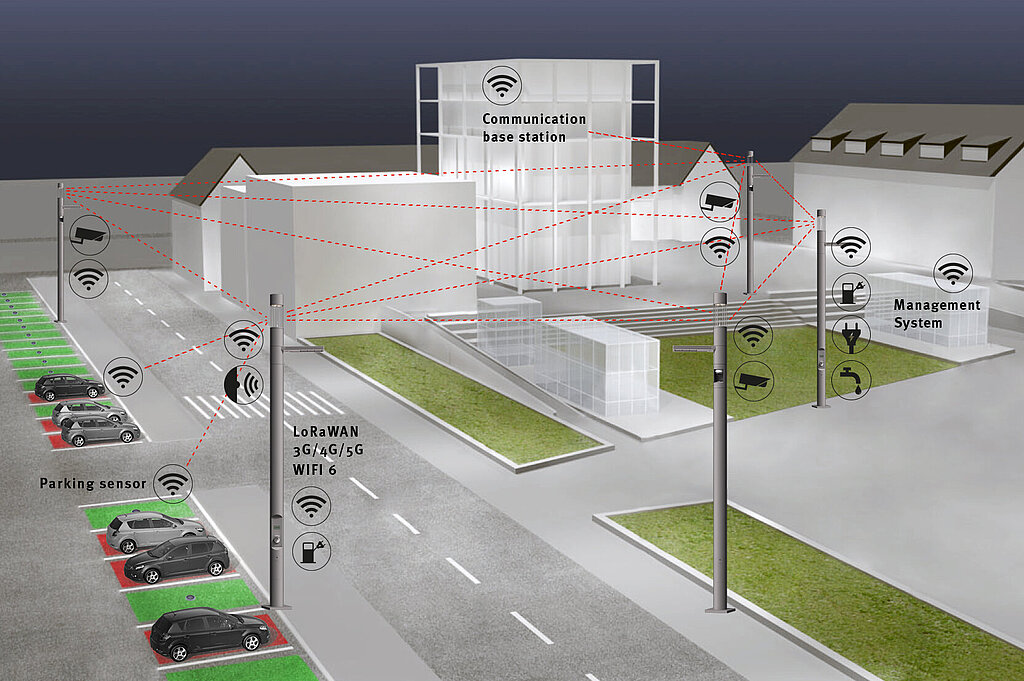 Street lights as the perfect solution
Lighting systems offer optimal opportunities for using sensor technology, because they are already located or are being newly installed in the public spaces of vibrant city centres.
In addition to energy-efficient and adaptable control of exterior lighting, the sensors integrated into the lighting system can make fantastic contributions to urban life:
Traffic sensors can control traffic lights and guide vehicles to detours and alternative routes in the event of accidents, road works and road closures; parking sensors can detect the occupancy status of parking spaces and forward this data to systems that communicate information and assist in navigation; and sensors for fine particulate matter can measure air quality on the roads.
On balance, effective organisation of traffic flow, as well as collecting, linking and evaluating important data, creates the much-discussed and desired Smart City, in which the lives of the inhabitants can be improved in a sustainable way. This naturally also includes optimised mobility and greater safety.
This is especially important for the world of tomorrow, because the knowledge provided by the sensors form an optimal foundation for new planning and construction measures in cities, where every square metre is extremely scarce and must be used wisely. Last but not least, traffic and environmental data are of utmost importance in an era of climate change and extreme weather phenomena.
There are also many other areas of application for intelligent street lights – from self-driving cars of the future, which require the support of external sensors for vehicle guidance, to information applications that provide tips to visitors through to security systems that offer unparalleled protection to the city and its inhabitants.
Light, design and multifunction
Today's luminaire perfectly integrates additional smart features and functions for the requirements of a Smart City.
Product shown: