The newly refurbished Letteplatz in Berlin's Reinickendorf city section has transformed an unattractive urban area into a popular meeting place. Barbara Willecke, landscape architect, and her firm planung.freiraum received the contract from the city district council's office to redesign the approximately 7,300-square metre plaza to meet residents' specific ideas and needs. She used Hess outdoor lighting products to create atmosphere and to accent aesthetic qualities.
Award-winning Innovative Design
Letteplatz's new personality and function as a place of intergenerational social integration are exemplary and for this reason, the plaza gained national recognition, receiving the Nationaler Preis für integrierte Stadtentwicklung und Baukultur, a prize for integrated urban development. State Secretary Rainer Bomba of the Federal Ministry of Transport Building and Urban Development presented the award to the city section's representatives and project contributors at the international Urban Energies Congress held in Berlin on October 11, 2012.

With this accolade, the Federal Ministry of Transport Building and Urban Development pays tribute to innovative urban development projects that are realised in conjunction with "Städte bauen. Städte leben," a national competition whose objective is to promote innovative design that creates attractive spaces capable of serving multiple urban functions and users. The competition and the programme have a true pilot character and aim to encourage participation and the input of ideas for living in urban environments.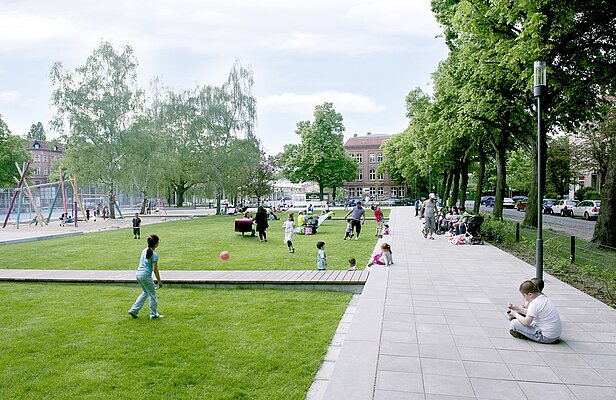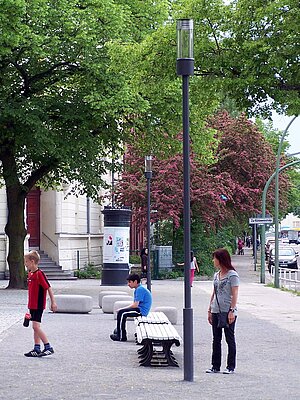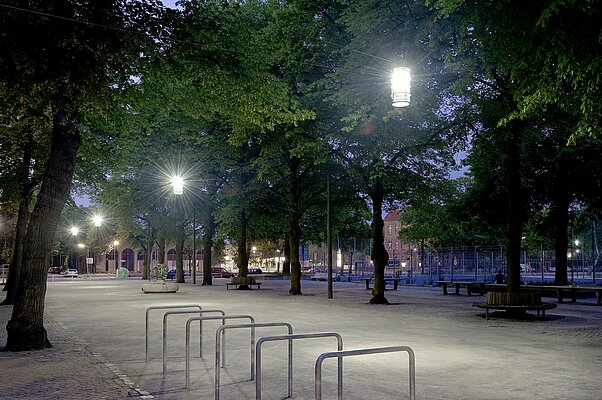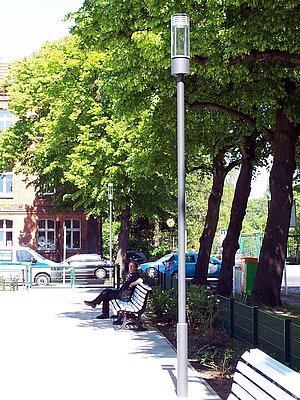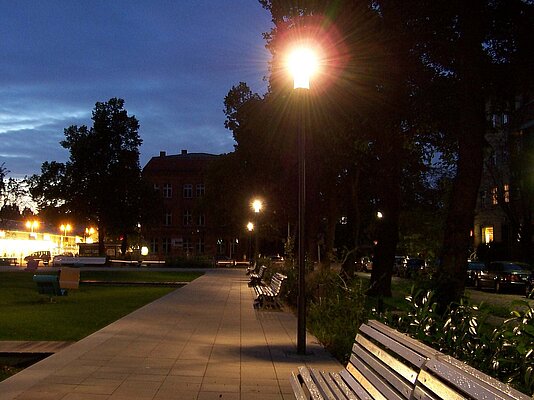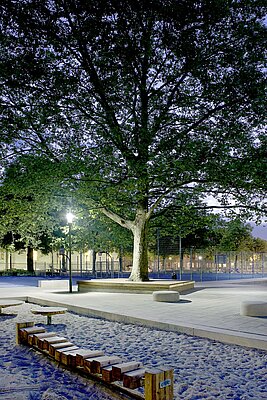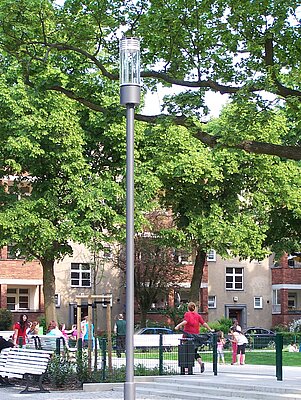 © Andreas Süss & © Hess
Lighting Serves Security
LED Modules Deliver High Light Quality

The citizens and the planners unanimously agreed that all the walkways should be constantly lit throughout the entire plaza, in order to provide the required safety and desired sense of security for users at night. But they also agreed the illumination should require a minimum of energy. With this in mind, they decided on Hess functional outdoor lighting with long-lasting, energy-efficient LED modules. Designed and built to answer the different requirements of outdoor lighting, the modules' energy usage is very low, although they operate constantly. Further advantages include the high light quality due to the excellent colour rendering, and the pleasant atmosphere created by the LEDs' white light.

RESIDENZA pole top mounted luminaires and VILLAGE catenary suspended luminaires from Hess were installed around the space. Hess custom-fit the catenary luminaires with LEVO multifunctional LED modules for this project. The LEVO module features a large-area optical component with a complex array of prisms. It produces a broad distribution of uniform light without darkened areas.
Structured According to Function
Having as its motto "one living space for all - redesigned for young and old," the project team set out to convert a little used urban space into a heavily frequented intercultural neighbourhood square. Now completed, the space offers residents carefully planned play areas, walkways and places to sit and relax where different generations, cultures, and men and women gladly meet and harmoniously interact.
Leisure and Play
Barbara Willecke, the landscape designer, carefully designed the space's various zones and the transitions between the zones. For example, "the entrances are spacious and encourage users to engage with each other in conversation," explains the expert. Low fences lend the space structure, creating inner and outer realms and affording the playgrounds suitable protection without forming barriers. Catenary luminaires, placed like chandeliers, marvellously highlight "Baumhalle2," a corridor formed by stately old-growth trees, at night. Overall, the lighting remains subtly present during the day while at night embellishing the atmosphere of the entire plaza.
Further information
Details about the Ministry of Transport Building and Urban Development's "Stadt bauen. Stadt leben" competition are available in German on www.stadtbauenstadtleben.de

You'll find current information about activities, projects and campaigns concerning the Letteplatz plaza in German on www.qm-letteplatz.de
Project information
Town / Country

Reinickendorf - Berlin, Germany

Lighting design

Andreas Beine, Hess

Builder

Bezirksamt Reinickendorf und Quartiersmanagement Letteplatz

Architect

Barbara Willecke planung.freiraum, www.planungfreiraum.de