The Edgewood Plaza Shopping Center in Palo Alto, California is a significant architectural landmark in the Silicon Valley city. Built by the renowned American developer Joseph Eichler in the mid-50s, the plaza successfully supports a blend of uses, including shopping, residences and an integrated public gathering area.
Public Gathering Space Breathes Again
After full renovation of the building and extensive, new landscaping of the grounds, the shopping centre now smiles upon visitors and inhabitants. The square has become a popular gathering spot with shady places to sit thanks to its freshly landscaped grounds, which include many plantings of ornamental grasses, perennials and potted plants. Hess RENO illuminating columns furnish the square's lighting. During the day, their refined design pleases the eye, as does their light at night.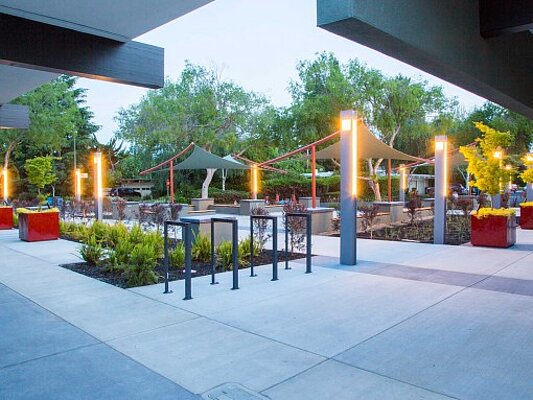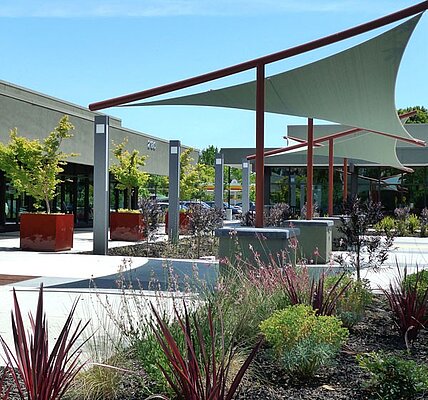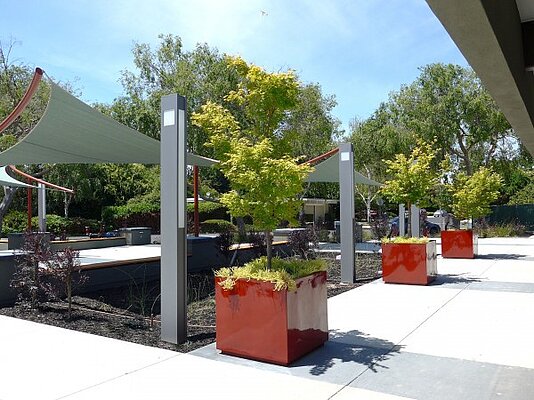 © Guzzardo Partnership
RENO-Design Lighting in Many Aspects
Attractive lighting attractively distinguishes square from surrounding buildings

Not just the actual light, but the daytime aesthetic quality of the luminaires as well, played an important role in the client's decision to go with RENO. RENO possesses a distinct rectangular housing with 200 x 200 mm enclosure, which emits light from the column's upper section, and two 1500 mm long translucent single-pane tempered safety glass enclosures that house diffused asymmetric effect lighting optics.

Placed strategically along the walkways and at the plaza's crosswalks, the RENO illuminating columns distinguish the gathering area from the surrounding single-storey buildings, while adding a fascinating dimension of visual depth thanks to the effect lighting.
Now a feeling of comfort thanks to warm white light
RENO's warm white light creates an atmosphere that cordially beckons to spend the waning moments of the day while relaxing in the plaza's realm. The refurbishment of the plaza along with the new aesthetic lighting have together significantly contributed to revitalizing the architectural heritage in line with the intentions of its builder, Joseph Eichler. Now, it has been preserved as a living space for future generations.
Project information
Town / Country

Palo Alto, US

Lighting design

Associated Lighting Representatives Oakland

Builder

City of Palo Alto, California