LEDIA-LF OD EL 300 - 5,0t
12.35902.5V005 80 LED 10W 24V - ORANGE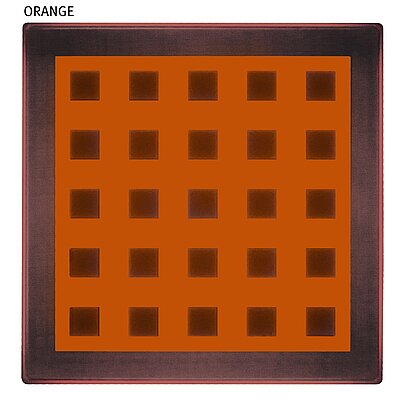 Square luminaire body made of stainless steel. Luminaire enclosure made of single-pane tempered safety glass with non-slip printing. Mounting frame made of stainless steel for installation height 120mm. Four sizes (95, 195, 295, 395mm). Maintenance-free. Power supply is provided by an external power supply unit for mounting in the on-site sub-distribution. Protection rating III. Do not allow chemicals or other corrosive materials to come in contact with the luminaire.

LEDIA LF OD:
Can be rolled over up to a weight of 1.5t or 5.0t. LED fittings: Effect light (EL) or colour change (RGB) up to approx. 25W. Cable on site.

LEDIA LF UW:
LED fittings: Effect light (EL) up to approx. 13W. For use under water, the light tile is additionally moulded inside. Illuminating tile with pre-wired connection cable for contacting outside the wet area. Please specify cable length when ordering.
LEDIA-LF OD EL 300 - 5,0t
Illuminating tile LEDIA-LF OD EL 300 - 5,0t
For exterior use
Luminaire housing constructed of V4A stainless steel
Single-pane, tempered safety glass tile with anti-slip coat
Dimensions: 295 x 295 mm
Installation depth: 120 mm
Elec. equip.: 80 LED's = approx.10W power consumption
Colour LED's: orange (roughness spacing 591 nm)
Operation voltage: 24V DC
Ingress protection IP67 , protection rating III
Can be rolled-over in digit rate by max. 5,0 tons wheel-load
Installation only according to HESS Mounting details!
---
Technical specifications
Ingress protection

IP67

Variant

Outdoor

Safety class

III

ULOR

98%

Rated input power

10 W

Rollover Capacity [t]

5

LED Lifetime

L80 B10 / 85.000h - TA <= 25°C
L70 B10 / 50.000h - TA >25 - <=50°C

Height [mm]

120

Dimensions [mm]

300 x 300
---
Drawing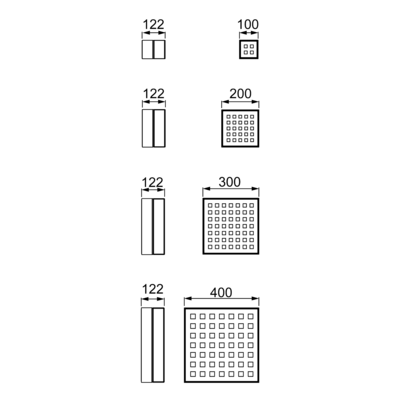 ---
Downloads
---
Accessories
---
The PDF datasheet contains your selected accessories.