LUMINAIRE SERA 600
10.19900.3V062 LEVO3 20W SKII (3000K)/O1

Curved luminaire body made of cast aluminium. Luminaire enclosure made of single-pane safety glass, opens without tools. Inclination of luminaire without bracket SERA S adjustable in increments: 0°, 5°, 10°, 15°. With bracket SERA S: 5°, 10°, 15°, 20°. Light colour: 1800K / 2700K / 3000K / 4000K. Protection rating I or II.
LUMINAIRE SERA 600
Luminaire SERA 600
Housing constructed of die-cast aluminium
Cover made of clear single-pane tempered safety glass
Adjust to tilt angles of 0°, 5°, 10° or 15°
No tools required for opening
Light distribution: Asymmetrical, optimised for luminance
(Characteristic: For main road illumination)
Elec. equip.: LED LEVO3 O1 approx. 20W (3000K)
With electronical ballast (220-240V/50-60Hz)
- without CLM (350mA, 20W)
Ingress protection IP66, protection rating II
Following versions are available:
Without dimming and without CLM
(luminous output degradation compensation)
Or with dimming via DALI, StepDim or AstroDim
(please specify on your purchase order!)
Can be mounted on standard poles with fitter diameters
- 60 mm (side mounted) OR
- 76,1 mm (pole top mounted)
pre-wired (8000 mm)
Colour: DB 703 or all RAL- (classic- single shades),
Hess-DB and Hess-Glimmer-colours.
RAL pearl-mica-metallic-shades on request.
---
Technical specifications
Ingress protection

IP66

Safety class

II

ULOR

0%

IK-Value

IK08

Rated input power

20 W

Width [mm]

280

LED Lifetime

L80 B10 / 100.000h - TA <=25° C
L70 B10 / 50.000h - TA >25 - <=50°C

Height [mm]

190

Length [mm]

740

Area exposed to wind

0,11 m²

Spigot ø in [mm]

60, 76,1
---
Drawing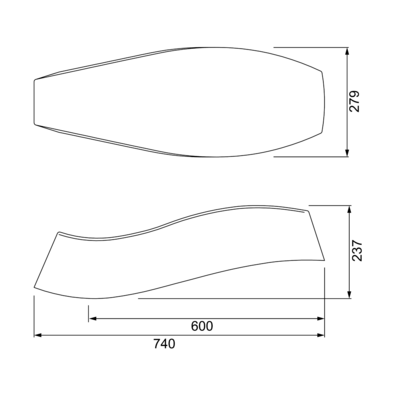 ---
Downloads
---
Accessories
---
The PDF datasheet contains your selected accessories.