With the Anaheim Regional Transportation Intermodal Center – ARTIC for short – the city of Anaheim in the densely populated region of Orange County southeast of Los Angeles has created a new hub for local and and regional public transport which is to pave the way for future-oriented mobility.
Revitalisation of local and regional public transport
The station, which opened in late 2014, is in the immediate vicinity of the Disneyland Resort. It hopes to encourage tourists, travellers and commuters to use public transport over the long term and features easy access to national rail transport, a number of bus routes and other transportation such as airport shuttles, taxis and bike rental stations. Its restaurants, WiFi and charging stations make it a pleasant and convenient place to linger. It is estimated that more than forty million travellers use this transfer station annually.

In the outside area of the extravagant new building, CITY ELEMENTS illuminating columns from HessAmerica ensure optimum illumination at two different heights, help guide the way, and provide a high sense of security among travellers and commuters.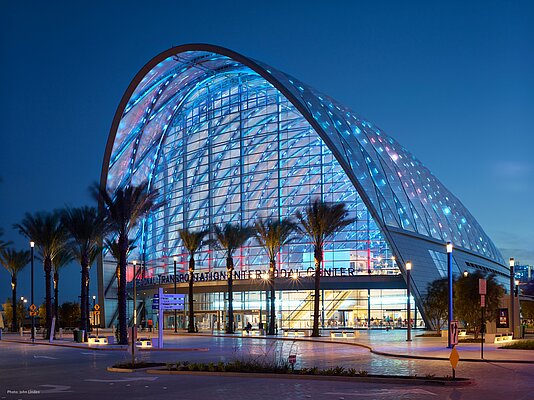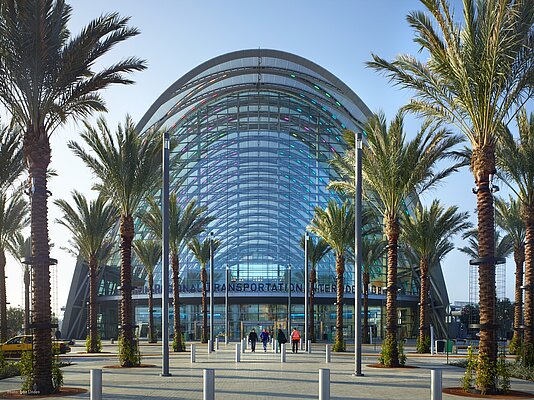 © John Linden
A tribute to the greatest station concourses in the world
Grand Central Station in New York as a model

ARTIC was designed for the city of Anaheim by the HOK architecture firm and the infrastructure planner Parsons Brinckerhoff. They drew inspiration for the building from the glamour of the most impressive station concourses in the world, including Grand Central Station in New York. The centrepiece of the three-storey building is the distribution hall with an area of 6,225 square meters and with a height of 35 meters, which has an impressive bright and light-flooded ambience.
ARTIC sets standards for sustainable construction
In addition, with its innovative architecture the ARTIC satisfies the highest US environmental standards for sustainable construction: The arched structural steel covers a transparent building envelope made of lightweight, pneumatically supported and recyclable foil cushions, which are made of the high-performance material 3M Dyneon ETFE.

The tear-proof, UV-resistant and heat-insulating ETFE films allow the sunlight to shine through while the heat of the mild California climate remains outside. Instead of air conditioning, hinged segments on the façade allow natural ventilation.

Through additional heating and cooling elements embedded in the floor, the building consumes up to 50% less than what is legally allowed. In this way, the building achieves the "Platinum" designation, the highest level of the US sustainability certification system LEED (Leadership in Energy and Environmental Design).
Lighting solution
CITY ELEMENTS offer design and efficiency

The energy-efficient lighting solution for the outdoor area dovetails seamlessly into the sustainable building concept: CITY ELEMENTS illuminating columns by HessAmerica in two different heights border the main entrance to the station as well as adjacent areas around the new building. Their timeless design fits perfectly with the modern building structure – light and architecture combine to form a holistic ensemble.

The main entrance is lit up by eight 9-meter-high CITY ELEMENTS 230 illuminating columns. Their terminating elements are equipped with ring reflectors and 150 W metal halide lamps, which ensure rotationally symmetrical and broad light distribution over the area with high luminous efficiency. The pedestrian area is accentuated by additional LED effect lighting. This is housed behind frosted glass inserts in the intermediate elements of the CITY ELEMENTS.
Added value through additional electrical connections
In the base element, the CITY ELEMENTS also include practical electrical connections, which are used to supply power for a variety of events throughout the year.

An additional twenty-seven CITY ELEMENTS 230 illuminating columns with a height of 6 meters and identically configured terminating element, but with no extra LED effect lighting, are installed around the station building.
CITY ELEMENTS – Multifunctionality at its best
More than just a luminaire

CITY ELEMENTS from Hess is a luminaire system that is suitable for all requirements in the city as well as in front of prestigious and high-profile buildings. These modular illuminating columns are suitable for almost all lighting tasks and fit perfectly with the existing urban surroundings as well a wide array of architectural requirements thanks to their individually combinable base, intermediate and terminating elements, two different diameters, various lighting technologies and variable heights of up to 9 meters and above.

Furthermore, with CITY ELEMENTS a variety of additional functions and supply solutions for various inner-city and functional requirements can be implemented, such as for electricity and water supply, Christmas illuminations, camera installation in security areas, emergency call functions and attractive light projections, or in regard to e-mobility.
Project information
Town / Country

Anaheim, US

Builder

City of Anaheim, California

Architect

HOK.com