Luminaire VARESE
10.12210.0V008 1XLEVO Q 30W SKII (4000K)/ASYM.
Convex luminaire canopy made of aluminium. Luminaire enclosure made of PMMA, clear. Diameter 200mm. Cylindrical luminaire body made of cast aluminium, elegantly tapering towards the pole. Holder for poles with 76.1 mm. Light colour: 3000K/4000K. Protection rating I or II.
Luminaire VARESE
Luminaire VARESE
Constructed of aluminium casting
Cover of PMMA ø 200 mm, clear
Cap made of aluminium casting
Light distribution: asymmetric, ME-optic
(Characteristic: for place illumination)
Elec. equip.: LED-1xLEVO Q approx.30W(4000K)
With electronical ballast (220-240V/50-60Hz)
- with CLM (245-350mA, 20-30W)
- without CLM (350mA, 30W)
Ingress protection IP65, protection rating II
Following versions are available:
Without dimming and without CLM
(luminous output degradation compensation)
Or with dimming via DALI, StepDim or AstroDim
AND/OR with CLM (please specify on your purchase order!)
Pole spigot ø 76,1 mm
==> pre-wired (6000 mm)
Colour: DB 703
---
Technical specifications
Ingress protection

IP65

Safety class

II

ULOR

3,6%

Area exposed to wind

0,15 m²

IK-Value

IK07

Rated input power

30 W

LED Lifetime

L80 B10 / 85.000h - TA <= 25°C
L70 B10 / 50.000h - TA >25 - <=50°C

Height [mm]

840

Spigot ø in [mm]

76,1
---
Drawing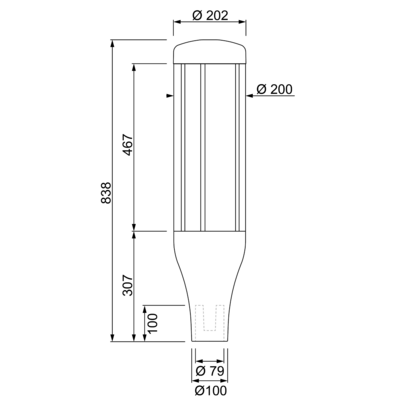 ---
Downloads
---
Accessories
---
The PDF datasheet contains your selected accessories.